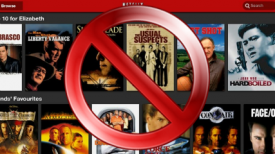 Netflix is one of the hottest sites on the internet offering on demand streaming media to millions of customers every day.
Over 100,00 people join every week and are able to watch high quality video instantly streamed over the internet on a huge array of devices such as PS3, Wii, Xbox, PC, Mac, iPad, Apple TV and more. There are literally thousands of films and TV episodes to watch for a low monthly fee.
However, if you live outside the US or are just travelling abroad from the US, you may find that you are unable to watch Netflix. This is because Netflix check your location before you try and access any of their content.
They can do this by the simple measure of checking your IP address which gives away your location and if you are using a non-US IP address you will be blocked from the service.
So, how do you watch Netflix outside the US? The first you need is a US IP address…
A simple web proxy service will not suffice as it will not allow sufficient bandwidth to stream high quality video so you will need a much more robust solution.
What you need to do is connect to a virtual private network (VPN) with a server based in the US. This will not only switch your IP address to a US one but also give you the bandwidth required. But take care not all VPN services provide the necessary speed and reliability.
There are a numbers of VPN providers to pick from so make sure you choose one with a choice of fast US servers.
VPN Service Rating Table
*12 month plan
GD Star Rating
loading...