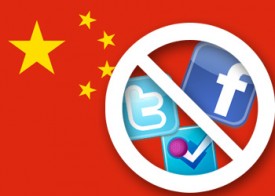 China has the most sophisticated content-filtering internet system in the world. The Chinese government filters content using multiple layers of regulation and technical controls.
Although ostensibly designed to filter out "superstitious, pornographic, violence-related, gambling and other harmful information" cencorship extends to many popular social network sites and political blogs and media.
Officially called the Golden Shield Project it is now more commonly known throughout the world as The Great Firewall of China.
It is virtually impossible to list all the sites that are blocked in China as the list is constantly changing but you check out this Chinese Firewall Test to check whether a website is blocked by the Great Firewall of China.
The Chinese people continue to protest against their government's attempt to censor the Internet with more covert and tech savvy protesters finding ways to beat the firewall.
Simple web proxy sites are often the first port of call. These free sites allow Chinese users to change their IP address to a location outside of China and to connect to the internet that way. They are simple to use, require no set-up and can be used from anywhere. However, the Chinese government are well aware of this method and constantly seek out and then block these sites. They are also limited only to web browsing, any games, software, or apps you run on your phone/computer won't be using the anonymous IP address.
A much better alternative is to use a VPN. Virtual private networks (VPNs) require an installation but they are now simple to use anyone can get started easily, As well as changing your IP address they also secure and encrypt your whole connection via mobile device or computer. This means that file sharing, gaming, and chatting over VoIP is possible when using a VPN in China.
They are more secure, reliable, and faster than proxies but because they have multiple sever locations you can access sites that you not be able to based on geo-restrictions. You can watch Hulu or the BBC iPlayer where normally you would have to be a resident of the US and UK respectively.
Take care though because the only reliable VPN protocol is OpenVPN, sometimes called SSL/OpenVPN. Parts of China can also use other VPN protocols, including PPTP, L2TP, and SSTP, but not these are not available every where. Also, not every VPN provider has all VPN protocols available, and not all work in China.
VPN Service Rating Table
*12 month plan
GD Star Rating
loading...
How to Unblock Websites in China

,