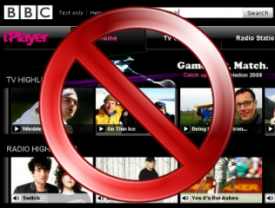 The BBC has long been famed for the quality of its programming. From news and sport to quality drama and films the BBC is envied around the world.
That quality became available online via the BBC iPlayer in 2007. The iPlayer allows users to watch live streaming programs as they happen as well as an extensive library of previously shown dramas, shows, films and sport.
Programmes are available from BBC 1, 2, 3 and 4 as well as CBeebies (for kids), BBC Parliament and BBC News 24.
You can also download your favourites for the iPlayer Desktop program and watch many programs in high definition (HD).
Versions of the iPlayer are also available for mobile devices and some game consoles.
The BBC iPlayer service is free for all UK residents provided they have a UK TV Licence.
However, if you are outside the UK you get a blocked message as all BBC iPlayer TV programmes are accessible from IP addresses allocated to the UK only.
An international version of the iPlayer was launched in July 2011 in eleven western European countries. Launches in Australia and Canada followed by the end of 2011 as part of what is intended to be a one-year pilot. A US launch date has yet to be announced.
However, the international iPlayer is an iPad application which offers only a limited amount of free content alongside ads and sponsorship and requires a subscription of approximately £5.00 per month.
A far better bet would be to use a virtual private network or VPN. When using a VPN service you essentially connect to the internet via the VPN's servers rather than directly from your own computer or mobile device.
Most VPN services offer multiple server locations so what you do is connect via one of their UK servers. This fools the BBC iPlayer into thinking you are located in the UK and you therefore get unrestricted access to everything on the iPlayer.
There are a numbers of VPN providers to pick from so make sure you choose one with a choice of fast UK servers.
VPN Service Rating Table
*12 month plan
GD Star Rating
loading...