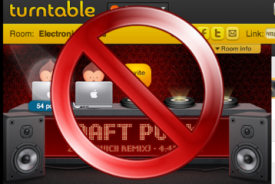 Turntable.fm is the latest buzz on the social media scene that allows users to interactively share music online. Users get together in rooms created by DJs who play their favourite songs while others in the room can talk to each other and comment via a text interface.
Users are represented by their avatar and can vote on songs via lame and awesome buttons. The DJ either provides a song that they possess on their local computer or may select a song from Turntable.fm's library.
The service provides an interesting slant on online music discovery and is red hot and happening right now. However, if you're not from the US, you're out of luck.
Turntable.fm have blocked Non-US users with the site stating 'licensing constraints'. The company uses the Digital Millennium Copyright Act to license the music that is played on the website; because of this, only individuals from the United States are allowed to use the service.
So what do you do if you want to get in on the action and showcase your tunes?
What you need is a US IP address so that Turntable.fm thinks you are in the US and will then let you in and the best way to achieve this is to get a virtual private network or VPN for short.
Using a VPN you can change your IP address so that it seems you're residing inside the US because you will connect to Turntable.fm via the VPN's US servers.
There are lots of VPN service providers out there from which to pick and you need to pick one with US servers that have fast and reliable connection speeds.
VPN Service Rating Table
*12 month plan
GD Star Rating
loading...