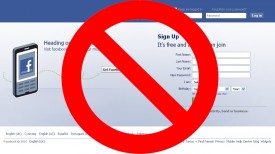 Facebook is the most popular social networking site in the world today. Founded by Mark Zuckerberg and his college room mates at Harvard back in 2004, it originally began as way for them to rate the girls on campus.
Facebook now boasts more than 800 million active users and will shortly float on the New York Stock Exchange with a valuation approaching $100 billion.
It has literally changed the way people interact to the extent that people can no longer remember how they managed without it.
All the more upsetting then if you find Facebook blocked and cannot gain access. Facebook could be blocked for a number of reasons but primarily they will be one of the following:-
The country you are in at the time, either as a resident or a visitor, is blocking Facebook for cultural or political reasons. Countries like China and Iran routinely block access by their citizens to Facebook.
Your school or college may block Facebook for educational reasons. In other words to stop students being distracted which is presumably what happen to Zuckerberg originally!
Your workplace may block access to Facebook for security reasons which pretty much amounts to the same thing as for students. Don't do it on our time!
There are a number of methods you can try to unblock Facebook.
First, simply enter the Facebook IP address rather than 'facebook.com'. The IP address is a number that looks like this 69.171.229.11 and you can look up any website IP address via Whois.
Next you can try a free web proxy site like HideMyAss. Visit the site and enter Facebook.com in the search bar.
You could try Facebook mobile at m.facebook.com which works from a lap-top or PC just as well as from a mobile device.
The best way to unblock Facebook though, especially if you are residing in a restricted country, is to use a VPN service. A VPN encrypts and tunnels your internet connection via the provider's servers which are located in uncensored locations.
In this way your internet connection is safe and secure from snoopers and you will have no difficulty in unblocking Facebook where ever you are.
VPN Service Rating Table
*12 month plan
GD Star Rating
loading...
How to Unblock Facebook

,